MasterSoft's Online Exam Software by the Numbers

MasterSoft's Online Exam Software Solutions

Online Exam Software Solutions
Conduct exams remotely with great convenience and ease

Remote Proctoring Solution
Most optimal proctoring solutions to ensure fair attempts by students

Online Student Assessment
Quick and accurate student's assessment and score cards

Computer Based
Test
Conduct exams for thousands of students in one go on computers

The Most Comprehensive & Cost Effective Online Exam Software
A modern standalone online assessment tool that helps educational institutions redefine the traditional assessment processes with proctoring technology that successfully evaluates and identifies learning gaps of students by conducting secure & scalable online exams, and boosts their academic performance & skill-set.
MasterSoft Online Exam Software, with built-in Artificial Intelligence & BI Powered Analytics Tools for analyzing areas of improvement, test level, etc seamlessly helps institutions including schools, colleges, and universities to overcome the most common yet unaddressed challenges by offering the best online assessment practices
Diagnosing & Rectify Learning Gaps
Create Assessments to Map Memory, Skills & Conceptual Knowledge
Monitoring Online Test to Avoid Malpractices
Faster Result Calculation with Detailed Analysis
Scrutinize Question-wise Performance
Generating Accurate Assessment Reports
Evaluation of PO & CO

A gamut of features designed for an improved Online Exam Management

Online Exam Software with Benefits For all The Stakeholders in Your Institution
A unified Online Exam Software designed by keeping all the stakeholders in mind. From helping faculty and invigilators to curb cheating and assess students in the most holistic way possible to helping students analyze and improve upon their weak areas. This is a tool designed to help stakeholders assess students and deliver next level assessments, readying the students for the future with next-gen skills and outcomes.




MasterSoft's Easy-to-Use Online Exam Software Interface
Login Page
Restricted access to the faculty members
Authentication of the users
Separate access to students and teachers
Provision to remember passwords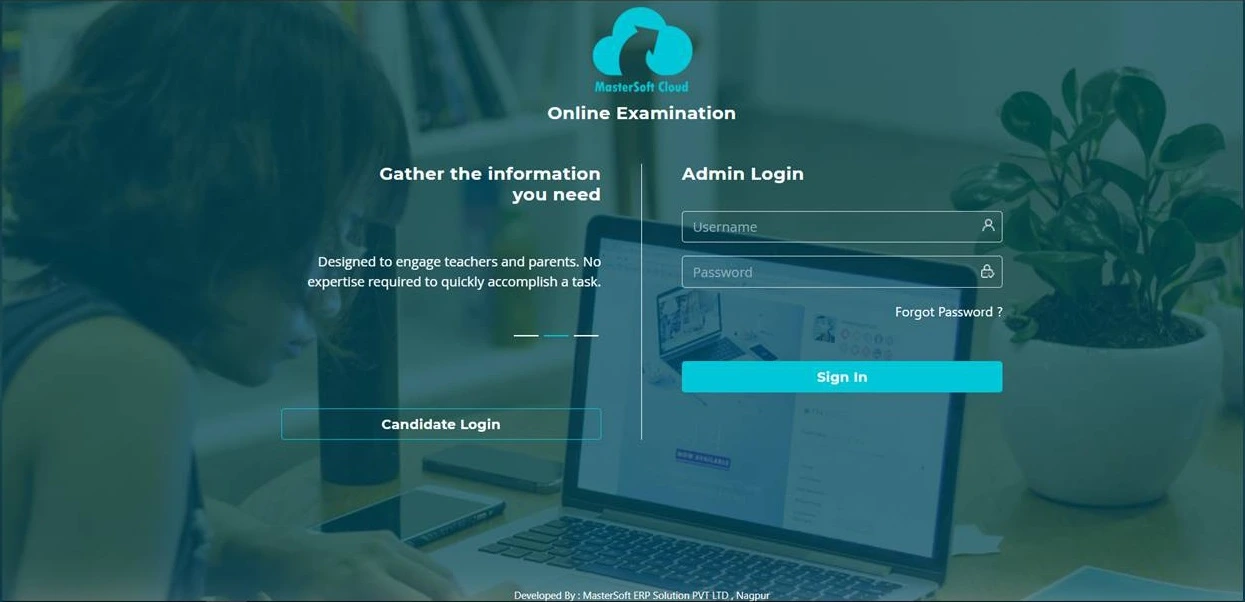 Dashboard content
Exam reports about subject and number of questions
Statistical data about the batches and number of students in it.
Business Intelligence graphs on exam data
List of ongoing and completed question papers
Recent activities performed in the system
Reports
Exam result for the students on given Roll number
Exam analysis report for the teacher's understanding.
Student's answer analysis report
Provision for downloading report
Various report downloading formats
Integration with other ERP
Integration with other applications
Integration with other colleges in the campus
Data migration using Excel
Data migration using API
College mapping for integration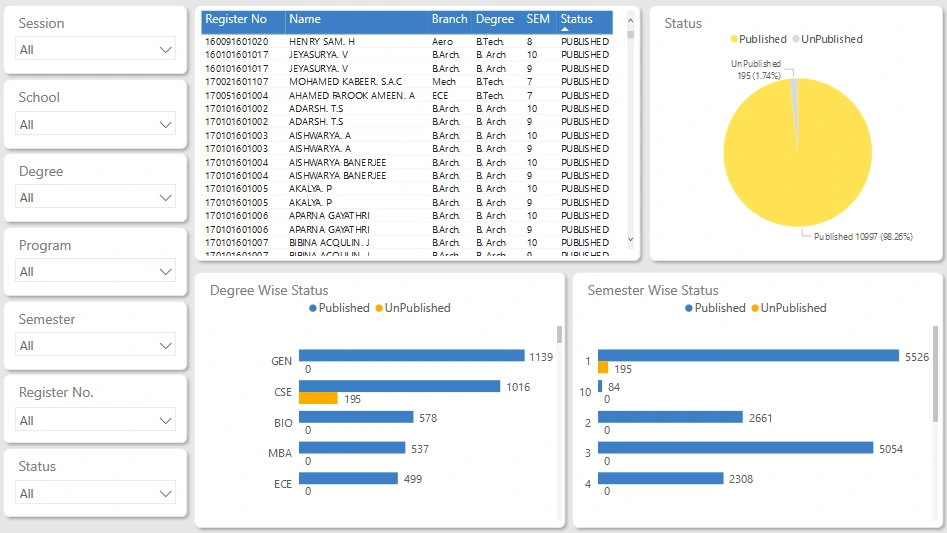 Designed For Institutions Of All Sizes
Features of Online Exam Software
Cloud-based Centralized Online Exam platform to Conduct & Evaluate Exams

Schedule & Track Examinations Virtually and Enhance Students Progress Effectively

Unique User Id, Password & OTP based Online Authentication of Candidates

Supports Different Exam Patterns Including - MCQs, Descriptive Tests, Quizzes, etc

Online Proctoring Tools for Real-time Monitoring & Cheating-Free Exams

Provision to Upload Answers along with Images & Diagrams For Descriptive Answers

Students Get Provision to Type & Voice Type the Answers in Multilingual Format

Students Images are Captured Randomly for Monitoring Student's Activities

Students can Access Mobile Based Assessments for MCQs at Lowest Bandwidth

Hosted on Highly Secure Cloud-Based Server & Data Encryption for 100% Data Security

About Us
MasterSoft ERP Solution is the most trusted e-governance ERP provider based in India. A close experience with prestigious educational institutes including autonomous and MHRD governed and funded Institutions such as NITs, IIIT, central universities, has helped our team members understand the educational framework and integrate best practices into our campus management solutions.

Testimonials
MasterSoft is the only software provider which gave us the feeling of Offline exams. We Tried the Online Exam Software from 3-4 vendors, but are satisfied by the solution provided by MasterSoft. It provides Role based logins for Invigilator, Supervisor, Moderator & Evaluator.
With the help of software provided by the company, I found that the entire work of result of F.Y.B.A./B.Com./B.Sc. get easy accurate without mistakes and not time consumable. I hope in the future, this software remains beneficial for the examination of all the classes.
The software is time-tested & simple to use. Our staff is well trained by the company engineers on this software. Our staff is using this software without any problems since the year 2002.I hope in the future, this software remains beneficial for the examination of all the classes.

Our Blogs